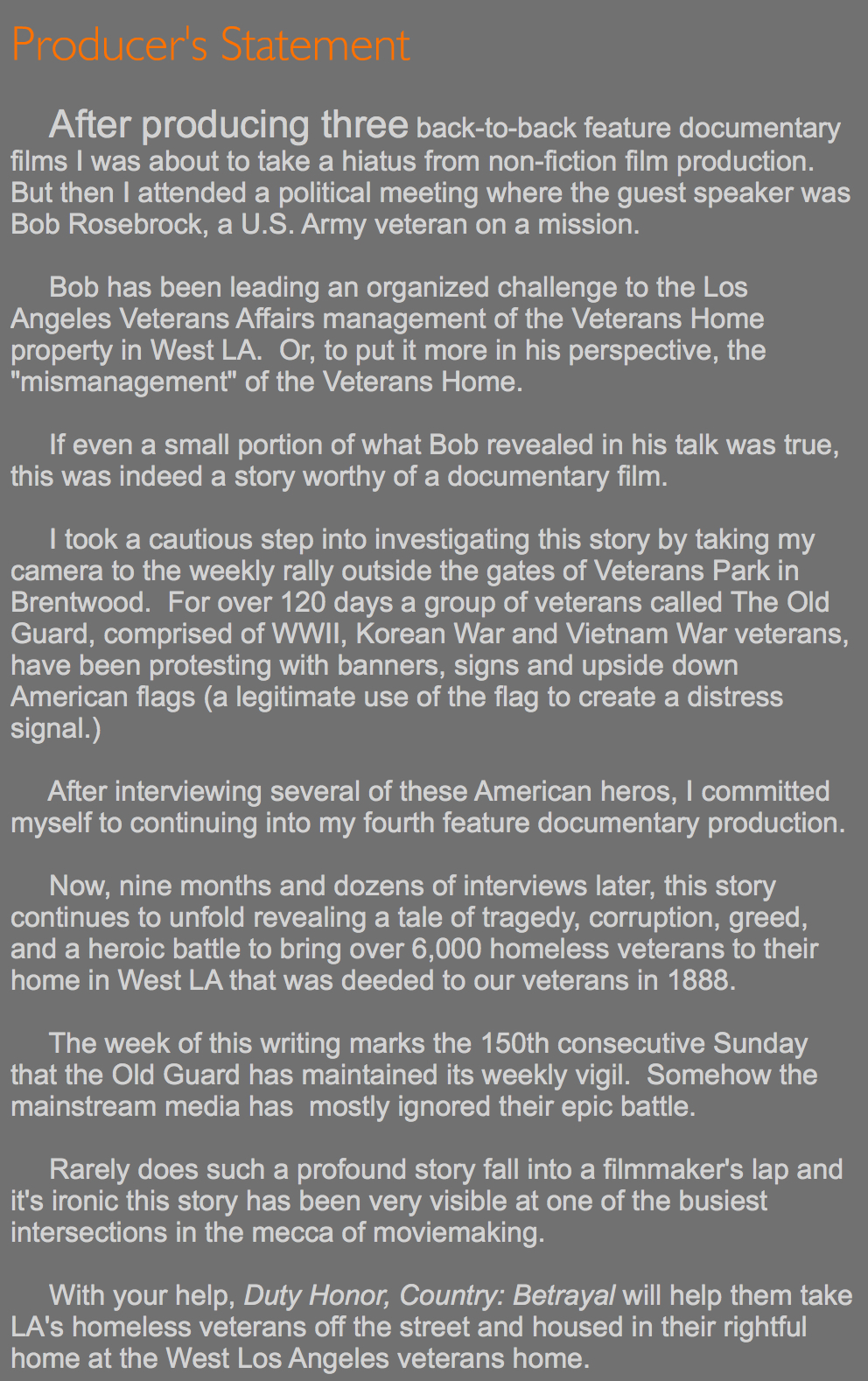 Producer's Bio
Bill produced the award-winning documentary, Missing, Presumed Dead: The Search for America's POWs, which screened in the U.S. Congress. His fourth feature documentary film, "Duty, Honor, Country: Betrayal" about homeless veterans in Los Angeles has screened at several LA venues including the Craft and Folk Art Museum.
Bill produced and directed the music documentary, The Reducers: America's Best Unsigned Band and also produced and co-directed the film biz documentary, Doing Unto Others.
He wrote, produced and directed the feature film, Unto Others, starring Bob Cicchini (Godfather III), Charles Gunning (Newton Boys) and Duane Whitaker (Pulp Fiction.) Bill also co-wrote the Playboy/Mystique film, Talk Sex and the upcoming comedy for Baron Jay Films, The Condo.
He co-produced Duane Whitaker's, Camp Utopia and was associate producer of Whitaker's, Together and Alone, starring Joe Estevez, Dan Roebuck and Casey Siemaszko
Bill's 35mm short, Through the Walls, produced in the Panavision New Filmmaker Program, was a finalist in the USA Film Festival.
Bill served as Video Production Director, Webmaster and Veterans Coordinator for the Ron Paul 2008 Presidential campaign. His campaign video received several million views on YouTube
He was Associate Professor in Film Studies at Connecticut College and the National Theater Institute at the Eugene O'Neill Theater Center (the institution that inspired Robert Redford to create Sundance.)
Bill received his MFA from the American Film Institute in Los Angeles.